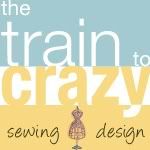 So a few weeks ago I bought a package of patterns from a blog that I read which sells sewing patterns (see above), and Steve gave me a bit of time yesterday so I popped out a cute little reversible vest for Lillian. The vest I made is actually the bodice pattern of her Madeline dress. So if you like my vest you can go to her site and get the pattern and make your own.
My girls are big on vests lately and both look so cute, and I figured for the little bit of extra work I would have to put into it to make it reversible it was so worth it! Here is my result on Lillian and the other side on the floor.
My next plan is to make another vest with a navy blue and red firework pattern on one side and a sparkly blue with gold stars on the other! Wish me luck and I promise to post it when I get around to it!